iPhone contacts disappearing can be a stressful experience, and we will discuss how to recover contacts on iPhone in this post.
The thought of losing important contact information can be daunting, whether due to accidental deletion, a software update, or a device malfunction.
However, there's no need to panic; you're in the right place. Take your time and go through the detailed explanations so that you can quickly regain access to your valuable information.
Reasons Why Contacts Can Be Lost on an iPhone
There are several reasons why you might lose your contacts on your iPhone. Some of the most common include accidental deletion, software or hardware issues, and syncing problems.
Accidental deletion is one of the most common causes of lost contact. It can happen when you're trying to delete one contact but accidentally select and delete multiple contacts instead. It can also happen if you're trying to clean up your contacts list and accidentally delete essential contacts.
Software or hardware issues can also cause your contacts to disappear. For example, if you have a software update that goes wrong, it can cause your contacts to disappear. Similarly, if your iPhone is damaged or the hardware fails, it can result in losing your contacts.
Syncing problems can also cause you to lose your contacts. If you're syncing your contacts with iCloud, for example, and there's an issue with the syncing process, it can result in losing your contacts.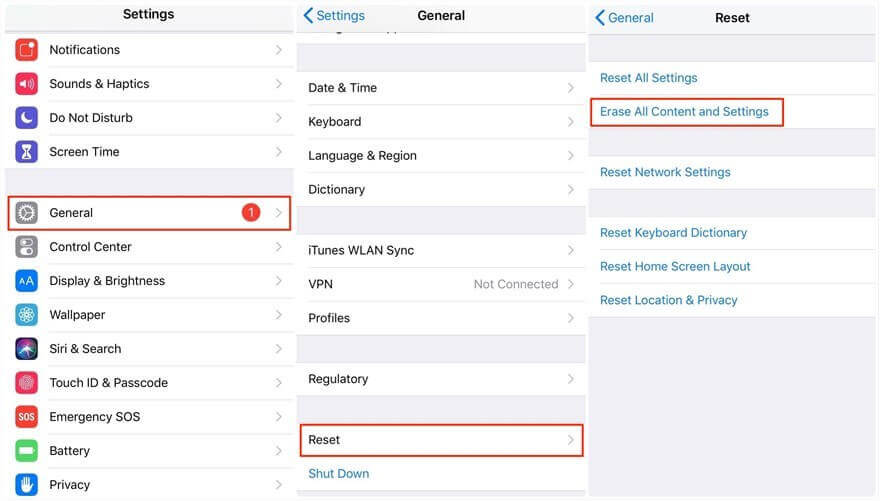 Methods on How To Recover Contacts on iPhone
Method 1: Restore Contacts from iCloud Backup
Open your iPhone's "Settings" app and tap on your name at the top.
Select "iCloud" and ensure that the "Contacts" toggle is enabled.
If it's already enabled, proceed to step 6. If not, toggle it on and choose "Merge" when prompted.
Wait for a few moments while your contacts are synced with iCloud.
Restart your iPhone and check if your contacts have been restored.
If the contacts are still missing, return to the iCloud settings and tap "iCloud Backup."
Check the date of the most recent backup and make sure it includes your contacts.
If a suitable backup exists, perform a full restore from that backup and wait for the process to complete.
Method 2: Retrieve Contacts from iTunes Backup
Sync your iPhone with the computer you usually use to connect with iTunes.
Launch iTunes and select your iPhone from the device list.
Click the "Restore Backup" button and choose the most recent backup containing your contacts.
Be patient for the restoration process to finish, and your contacts should be available on your iPhone afterward.
Method 3: Make use of a Third-Party Data Recovery Tool
Several third-party software tools specializing in iPhone data recovery, such as Dr.Fone, iMobie PhoneRescue, or Tenorshare UltData, are available.
Download and install a reputable data recovery tool that suits your needs.
Launch the software and connect your iPhone to your computer using a USB cable.
Adhere to the instructions displayed on your screen as provided by the software to scan your iPhone for recoverable data, particularly focusing on contacts.
Once the scan is complete, preview the recovered contacts and select the ones you want to restore.
Choose the option to restore the contacts to your iPhone, and the software will complete the process.
Method 4: Contact iCloud Support or Apple Support
If the above methods do not work or you encounter any difficulties during the recovery process, we recommend contacting iCloud Support or Apple Support for further assistance.
They have well-trained personnel who can guide you through the recovery process or offer alternative solutions.
See Also: How to Connect Your iPhone to Windows 11
Tips To Prevent Loss of Contacts On an iPhone
Prevention is always better than cure, and there are several things you can do to prevent the loss of your contacts on your iPhone.
One of the most important things you can do is to back up your contacts regularly. It can work best using iCloud or iTunes. To back up your contacts, you can quickly restore them in case of accidental deletion or other issues.
Another important thing you can do is to keep your iPhone updated with the latest software. Software updates always include bug fixes and security updates that can help prevent data loss.
It would be best if you were careful when deleting contacts. Make sure you double-check before deleting any contacts to avoid accidentally deleting important ones.
Contact Recovery Services for iPhone Users
If you're unable to recover your lost contacts using the methods described above, you may need to contact a professional data recovery service.
These services are particular in recovering lost data from damaged or broken devices. Some of the most popular data recovery services for iPhones include:
DriveSavers
CPR Cell Phone Repair
Secure Data Recovery Services
Check Out: UX Designer Salary
Conclusion
Losing contacts on your iPhone can be stressful, but it's pertinent to remain calm and take the necessary steps to recover your data.
Whether you utilize iCloud backups, iTunes backups, third-party data recovery tools, or seek assistance from customer support, the chances of recovering your contacts are high.
Remember to regularly back up your iPhone to prevent any future data loss, and consider utilizing cloud-based services to ensure your contacts remain safely stored.